The Palette™ Embossing & Watermark ink pad brings a superb clear embossing ink to the Palette™ line. 
And that's not all! 
Creates watermark style images on text weight paper. 
Makes tone on tone of faux effects on uncoated colored papers for a soft shadow appearance.
For dye ink resist techniques stamp onto glossy paper and then heat set. Then apply the dye inks with a brayer or applicator. The stamped image will resist the dye ink colors.
 Properties of Palette™ Embossing & Watermark Ink:
Acid Free and Archival.
Slow drying for flexible embossing times and brush-on pigment, pearl, and chalk powder applications.
Creates watermark or light shadow images on uncoated cardstock.
Batik-like dye ink resist effects on coated cardstock.
Works as a quick release coating for creating cloisonne medallions.
Raised pad surface for inking any stamp.
Lid snaps into base creating easy grip handle.
Made in U.S.A.
Sample Project Using Patette™ Embossing and Watermark Ink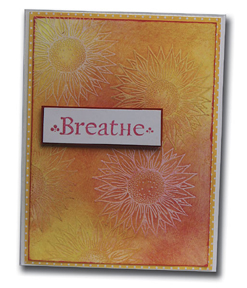 Card designed by Elaine Elwick Using Palette Hybrid Watermark Ink Pad