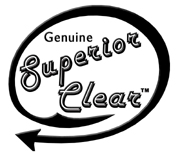 Ask for Superior Clear™ or look for this logo on the packaging. Superior Clear™ resists yellowing!
Interested in developing a clear stamp product line?
Give us a call - don't go to market with anything less than Superior Clear™. Our manufacturing service for Superior Clear™ stamps is affordable and easy. All manufacturing duties are handled by our expert staff and you receive finished product ready for packaging. Or you can supply us with your packaging materials and we'll package them up for a small labor charge. There are many advantages with clear stamps such as no trimming, no cushion and no mounting labor or wood mount costs. And the shipping costs less too!  And Superior Clear™ is resistant to yellowing!
Call 219-362-9921 or email This email address is being protected from spambots. You need JavaScript enabled to view it. and we'll get your designs and start making clear stamps your customers will love.
Need Us to Take Care of the Packaging?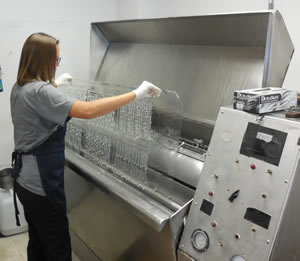 No Problem! We'll take care of all the packaging for you. How does this work?? What are the options?
Superior Clear™ - clearly the best! Don't be fooled by low quality clear stamp imitators!
Stewart Superior has been manufacturing clear photopolymer stamps since the late 1970's. That's over 25 years of experience and innovation. If you are interested in retailing a product line of clear photopolymer art stamps - don't turn away customers with poor quality clear stamps. There is a difference and the customers know it!
How can I tell the good clear stamps from the bad?
Since there are clear stamps on the market that are substandard quality- it's just good business to understand the difference. Here are a few tips on what to watch out for:
The bad don't adhere well to the clear blocks. Put the stamp on the block and tap the block on the table, if the stamp falls off they are low quality.
Examine the depth of the etching (depth of the stamp image). On low quality clear stamps it's much too shallow. Good quality clear stamps will be deeply etched similar to regular rubber stamps.
Bad stamps are too soft & gooey or too hard. Making premium quality clear stamps is not easy. It takes a lot of expertise. Due to the success of Superior Clear - many imitators have appeared. Many also use photopolymer. However, Superior ClearTM stamps are made with a proprietary photopolymer that is exclusive to Superior ClearTM. It is engineered to simulate the qualities of rubber. It has a hardness (durometer) equal to rubber and therefore handles ink - just like rubber for stamping crisp, clean images.
Photopolymer vs. Silicone
Imitators are now molding clear stamps using silicone or other plastics to simulate the appearance of photopolymer. The stamps are even individually formed to look like photopolymer. Silicone clear stamps are usually imported and are VERY inexpensive to manufacture.  If the stamps are extremely difficult to remove from the clear backing - chances are they are silicone and not photopolymer. If you see imported, non- photopolymer stamp sets selling for prices similar to photopolymer - then you are paying way too much!
Why is photopolymer better?
Photopolymer is designed and engineered for ink transfer - meaning that ink transfer is the primary function of photopolymer. The same cannot be said for vinyl, silicone and other plastics. A photopolymer stamp is basically 2nd generation from the digital art. Molded stamps are generally 4th or 5th generation from the digital art.  Less steps between the digital art and the finished stamps means higher resolution. Photopolymer also provides a more durable, longer lasting stamp die.  The super fast turnaround, higher quality and low minimums make US made photopolymer clear stamps the obvious choice for the demanding needs of the craft consumer.