SUPERIOR Stamp Pads are available in 5 sizes. Match your stamp pad to the size of your stamp. The SUPERIOR stamp pads come with a felt pad in a wide variety of colors & sizes. Ask your stamp representative to walk you through the different pads from which to choose.
Stamp Pads are Easy to Re-Ink using HQ Rubber Stamp Ink.
Dry  Superior Stamp Pads and HQ Rubber Stamp Ink can be purchased separately.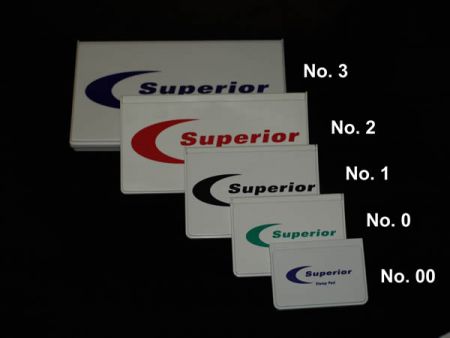 #335 HQ Rubber Stamp Ink Colors
Black
Red
Green
Blue
Violet
Additional colors upon request.
Stamp Pad Sizes:
No. 00 - 1.75"x 2.75" (44mm x 70mm)
No. 0 - 2.25" x 3.5" (57mm x 89mm)
No. 1 - 2.75" x 4.25" (70mm x 108mm)
No. 2 - 3" x 6.25" (76mm x 158mm)
No. 3 - 4.5" x 7.5" (108mm x 191mm)