The Ultimate Rubber Stamp Cleaner!
The Ultra Clean™ Stamp Cleaner provides amazing cleaning of both clear and rubber stamps. Use with a Double Scrubber Pad for best results. Ultra Clean™ is the most effective stamp cleaner ever developed. Cleans even the most difficult stamping inks. Ultra Clean™ lasts longer so you can clean more stamps with less cleaner. Ultra Clean™ will clean your stamps so well that you can go from stamping dark inks to light inks without worrying about the dark ink affecting the lighter shades. Ultra Clean™ also keeps your stamp scrubber clean by washing most of the ink out of the scrubber when rinsed with water.
It's an unbeatable stamp cleaner!
Available in open stock spray bottle, Clamshell  Kit with Mini Stamp Scrubber and 8 oz. refill size.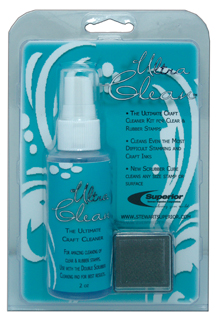 Ultra Clean Kit with Mini-Scrubber
DIRECTIONS:
Spritz Ultra Clean™  on a stamp scrubber pad.
Rub stamp on scrubber to clean and then wipe cleaner off stamp using dry side of scrubber or other dry surface. Repeat if necessary.  Rinse scrubber pad with water to clean.
Order Ultra Clean™ today!  Your stamps, your projects and your customers will love it.